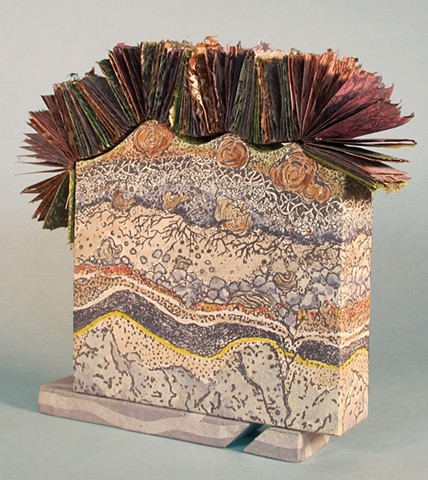 Old Growth: Beneath the Old Growth Forest Floor I
hand made paper, water-based relief ink, watercolor, linen thread, laminated plywood, and acrylic sealer.
7" x 1 ¾" x 10"
2014
$800
When standing in an old growth forest, you feel a false sense of stability. Beneath your feet are layers of moss, hemlock and cedar needles, lichen, cones, fern fronds, and elk droppings. Interpreting the text of a soil profile reveals layers of old growth forests altered by geologic forces: fire, flood, volcanic eruption, and lahar. Even the bedrock lies upon shifting tectonic plates.